Transportation
Dubuque Community School District's Transportation Department is responsible for bussing students and transporting educational materials/supplies/equipment throughout the district.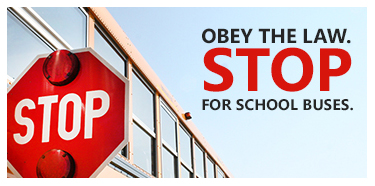 STOP MEANS STOP Be aware of school bus stop arms and remember that STOP means STOP.
Learn more at www.dbqschools.org/stop.
FIRST 5 School Bus Rules
Sit facing forward and stay seated @ all times.
Do NOT distract the driver with inappropriate behavior.
Respect the driver, attendant, and other students.
Do NOT bully or harass physically or verbally.
NO eating or drinking on the bus and "leave no trace."
For more information on riding a bus in our district, read our "What Families Need to Know" sheet.
For the latest on school delays and cancellations, call the DCSD Inclement Weather Line:
---
FOR MORE INFORMATION:
P: 563/552-3275
F: 563/552-3274
Kris Hall
Transportation Manager
khall@dbqschools.org
Sue Shaull
Assistant Manager
sshaull@dbqschools.org
Rachel Reeg-Kernall
Dispatcher
Terry Pape
Garage Supervisor