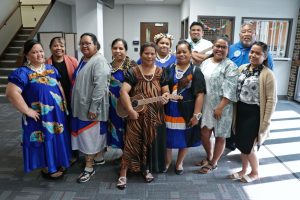 At the May 8 School Board meeting, the Board was joined by members of the Marshallese community, who will celebrate Marshallese Constitution Day over the Memorial Day weekend.
The Board adopted a proclamation officially recognizing the Marshallese holiday (see full proclamation text below)
Following the reading of the proclamation, representatives from the Marshallese community performed traditional songs and bestowed Board members with traditional flower crowns and shell necklaces. They also presented the district with a decorative wall hanging hand-woven from coconut.
THE PROCLAMATION READS:
WHEREAS, the citizens of the Republic of the Marshall Islands celebrate their Constitution Day on May 1 each year to commemorate the day 44 years ago when a new Constitution was adopted and status as an independent republic was achieved; and
WHEREAS, the Dubuque Community School District and our greater community benefit from a very vibrant Marshallese community that is rich with tradition; and
WHEREAS, celebration of Marshallese Constitution Day in the Marshall Islands would traditionally be focused on island culture, with games of tug-o-war, husking a coconut, and canoe racing; and in the United States is celebrated with basketball, softball and volleyball tournaments; and
WHEREAS, the observance of Marshallese Constitution Day in the United States is held on the three-day Memorial Day weekend, and the Marshallese community will recognize it with a celebration open to all members of the Dubuque community.
NOW THEREFORE, I, Kate Parks, on behalf of the Dubuque Community School District Board of Education, do hereby proclaim May 1 and Memorial Day Weekend as:
A Celebration of Marshallese Constitution Day
Signed this 8th Day of May, 2023.