Transportation
Dubuque Community School District's Transportation Department is responsible for bussing students and transporting educational materials/supplies/equipment throughout the district.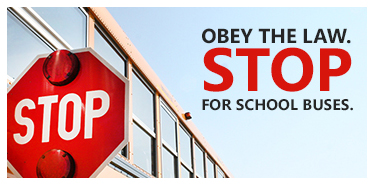 STOP MEANS STOP Be aware of school bus stop arms and remember that STOP means STOP.
Learn more at www.dbqschools.org/stop.
---
School Bus Safety Rules
Follow adult directions. Speak to the bus driver only when the bus is stopped, unless it is an emergency.
Stay seated and face forward. Wear your seatbelt, when available.
Keep head, hands, feet and objects inside the bus, and to yourself.
Use inside voice and school-appropriate language.
Use technology appropriately. Use earbuds or headphones, avoid taking pictures/videos, and make sure content is school appropriate.
Leave no trace. Make sure anything you bring on the bus goes with you when you exit.
For more information on riding a bus in our district, read our "What Families Need to Know" sheet.
---
Transportation Boundaries
Iowa Code 285.1 WHEN ENTITLED TO STATE AID.
1. a. The board of directors in every school district shall provide transportation, either directly or by reimbursement for transportation, for all resident pupils attending public school, kindergarten through twelfth grade, except that:
(1) Elementary pupils shall be entitled to transportation only if they live more than two miles from the school designated for attendance.
(2) High school pupils shall be entitled to transportation only if they live more than three miles from the school designated for attendance.
Student Transportation (Board Policy #7100)
The policy, rules and regulations for the transportation of pupils to and from school shall be in strict compliance with Iowa Code, Chapter 285, State Department of Education regulations, and rules and regulations established and approved by the Board of Directors.
Elementary school students (K through 8) living two miles or more and secondary school students (9 through 12) living three miles or more from a designated attendance center will be furnished transportation or reimbursement.
For the latest on school delays and cancellations, call the DCSD Inclement Weather Line:
---
FOR MORE INFORMATION:
P: 563/552-3275
F: 563/552-3274
Ernie Bolibaugh
Transportation Manager
ebolibaugh@dbqschools.org
Sue Shaull
Assistant Manager
sshaull@dbqschools.org
Juli Roth
Dispatcher
Ryan Fagan
Garage Supervisor
---
Planning to utilize the City of Dubuque's public transportation system, The Jule?
Plan your route and get more information on the Jule's MyRide webpage.